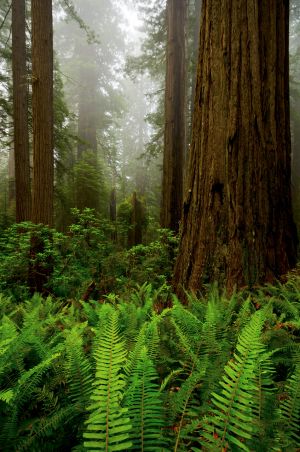 "Aspirations" — Del Norte Coast Redwoods State Park, Del Norte County, California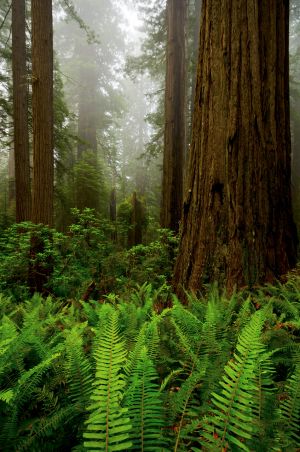 I made this image during a 4 day trip to far northern California to visit the redwoods in the Summer of 2011.  I was in search of some great atmosphere and during the summer the area can be swamped under a thick layer of fog and marine layer.  If you can find the right place that can make for some wonderful photographs.  Fog was the name of the game on this day so I headed up the 101 toward Crescent City from Prairie Creek Redwoods State Park.  During that drive you head up over a pass and drive right through Del Norte Creek Redwoods State Park.  I stopped at the Damnation Creek trailhead and headed up the trail on the western side of the highway to see if I could get myself into the high fog that was plowing into this steep section of coastline.  I was in luck!  To shoot this image I found a nice redwood surrounded by a hearty bunch of ferns and nestled myself down low to shoot the giant from their perspective.  I made sure to use my circular polarizer to really make the lush ferns pop.
Here's some technical information about the exposure and the post processing:
Exposure: 2 seconds, f/11, ISO 100
Camera & Lens: Nikon D7000 – Sigma 10-20mm f/4-5.6 EX DC HSM
Filters:  B+W Kaesemann Circular Polarizer
Post processing:  This is another image where nature did most of the work for me.  The thick layer of fog created a huge diffused light source that evenly lit almost everything in the scene.  This image had some dodging and burning to control highlights and bring detail to shadows.