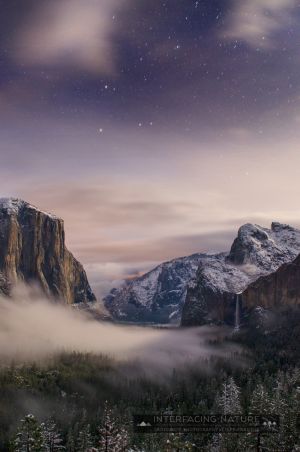 Muir's Melody — Yosemite National Park, California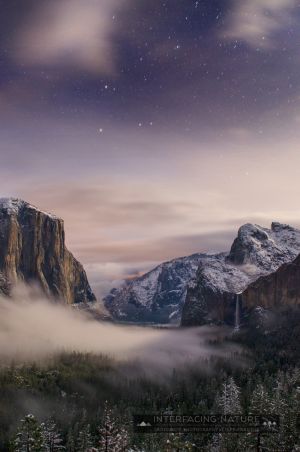 This is just a few bars of the epic Yosemite Symphony,  but I guarantee it will get stuck in your head.  I haven't been able to shake it since I first set eyes (and ears) on that magnificent granite when I first moved to California.  This little snippet of that symphony has all the right instruments, the low bass thunder of Bridal Veil Falls, the whisper of the everchanging mists, a twinkle of starlight, the alto of fresh snow, and the murmur of the Merced River as it flowed by hundreds of feet below.
I checked the Yosemite Conservancy webcams incessantly on Friday as a late season storm passed through the valley putting a fresh coat of snow on everything.  Having not been on a crazy day trip to Yosemite in a few months, I decided that it might be a good time to use my National Parks Membership and shoot on over for sunrise on Saturday.  Unfortunately, that means leaving the Bay Area around 1:00. AM.  Thankfully, I had a couple friends who were willing to come along and slap me around a bit if I started nodding off on the long drive through the central valley and up into the foothills.  We arrived in Yosemite at about 4:30 and promptly ran up to Tunnel View to have a snack and scope out the scene in the moonlight.  A bit later the clouds overhead started to break up and we could see some stars.  That's when I took the shots that make up this image.  We spent the next hour or so shooting the valley from Tunnel View waiting for sunrise.  Unfortunately, the sunrise was not colorful.  Afterward we toured around the valley and took a few more shots, ate breakfast and we were on our way back home by 8:30.  The nap that followed my return was wonderful.
Here's some technical information about the exposure and the post processing:
Exposure: 30 seconds, f/2.8, ISO 3200 & 2 minutes, f/2.8, ISO 800
Camera & Lens: Nikon D7000 — Sigma 24-70mm f/2.8 EX DG
Filters: None.
Post Processing:  This image is blend of two exposures taken in succession.  A shorter exposure at ISO 3200 to freeze the stars in place as as much as possible and a longer exposure at ISO 800 to obtain more detail and reduce the grain in the lower part of the image.  I processed both files in Adobe Camera Raw with identical adjustments so that the blend would be as seamless as possible.  After merging the two images together in Photoshop I burned down the top of the image to darken the sky and dodged in some more detail in the valley itself.  Then, I finished by adding some a bit of saturation and by warming up the image a bit by changing the grey point in a levels adjustment layer.