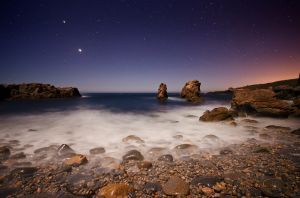 Moonstones — Soberanes Cove, Garrapata State Park, Carmel, California
Let me start by saying that Soberanes Cove in Garrapata State Park is one of my favorite locations.  It feels secluded though only a few steps away from CA-1 and the smooth granite stones on the beach look amazing when they get wet.  I have had an image of the cove at night in my mind for some time now and the conditions lined up perfectly for it last weekend.  My wonderful and patient girlfriend and I shot over to pick up Lukas and then headed down there with the intent to scout out a few new to us places in Garrapata before it got dark and then do some star work.  We shot a bit at Bixby Bridge and then headed back north to shoot this cove.
The scramble down to the beach level has a little exposure and it pays to have a buddy that can go down first so you can hand them your gear to have your hands free (thanks Lukas!).  Somehow the scramble seemed easier than usual in the dark.  The sound the waves make on this beach is really special as well, a wave will crash and then on it's return to sea it'll make the boulders clack together.  Quite a calming sound.
We shot for a little while on the beach trying out different compositions and trying to stay dry.  The moon was 2/3 full at our backs so it was providing great fill light for the cove and putting those amazing little highlights on each of the rocks.  Those two bright spots in the sky are Venus and Jupiter.
Here's some technical information about the exposure and the post processing:
Exposure: 30 seconds, f/4, ISO 1600
Camera & Lens: Nikon D7000 – Sigma 10-20mm f/4-5.6 EX DC HSM
Filters:  None
Post processing: Night images are usually somewhat tough for me to process.  There's either not enough light to see details in the foreground or the sky is getting too light to look like night.  The moon was very bright this night so my first move was to burn down the sky a bit to bring back the night feel, then I dodged some details back into the shadows in the headland to the left.  After that it was minor contrast tweaks throughout the image to add some pop and a bit of a saturation boost to highlight the gradient of color in the sky and the wonderful set of stones in the foreground.