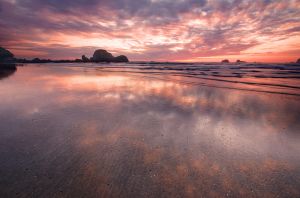 Hiya everyone.
I've just finished my second week (of six) of daily treatments at the Stanford Cancer Center.  Currently, I've just been receiving head and neck radiation doses to annihilate any stray melanoma cells that may have remained in my neck after the successful surgery in early May.
A typical day entails Sammy and I driving the 45 miles down to Stanford from our house in El Cerrito, which usually takes about an hour and ten minutes if the traffic is flowing smoothly.  Then I hop on the radiation table, underneath what I would describe as a giant stand mixer.  The technicians slide me around on the table to make sure I'm aligned and then slap a hard plastic mesh mask that bolts to the table to hold my head still to make sure the doses are directed exactly where they're supposed to be headed.  Then they take an x-ray to compare with the scans used during my treatment plan to make any final adjustments of my position and then it's go time!  The actual radiation treatment last about 3 or 4 minutes and I don't feel a thing.  The whole process usually takes 10-15 minutes and then we're back in the Forester to head home.  LOTS of driving.  Sam has been preparing for a lecture she's giving next week, so I drove myself to treatment 3 days this week.  Nice to feel a little independent and to give Sam a break from the 3-hour, middle-of-the-day time suck.
So far the side effects of the radiation haven't been too bad.  I have a constant taste of salt in my mouth, but food tastes normal when I'm eating it.  I'm starting to get a bit red on my right side from the radiation and my mouth is pretty sore when I first wake up in the morning, or if I eat something sharp or rough.   The radiation is directed mostly at my surgery site, but some of those pesky photons go astray and hit my mouth and tongue.  I'm feeling kind of like a mild sunburn on the inside of my mouth.  Ice cream definitely helps that situation as does the prescription mouthwash (but that doesn't taste anywhere near as good as ice cream!).
Monday (6/25) I start getting the infusions of high dose interferon alongside the radiation treatment.  I'm not sure how that'll effect me, but I'm not particularly looking forward to it.
We're counting down the daily trips left to Stanford on our kitchen menu chalkboard and it currently stands at 20 trips.  Each day brings me closer!